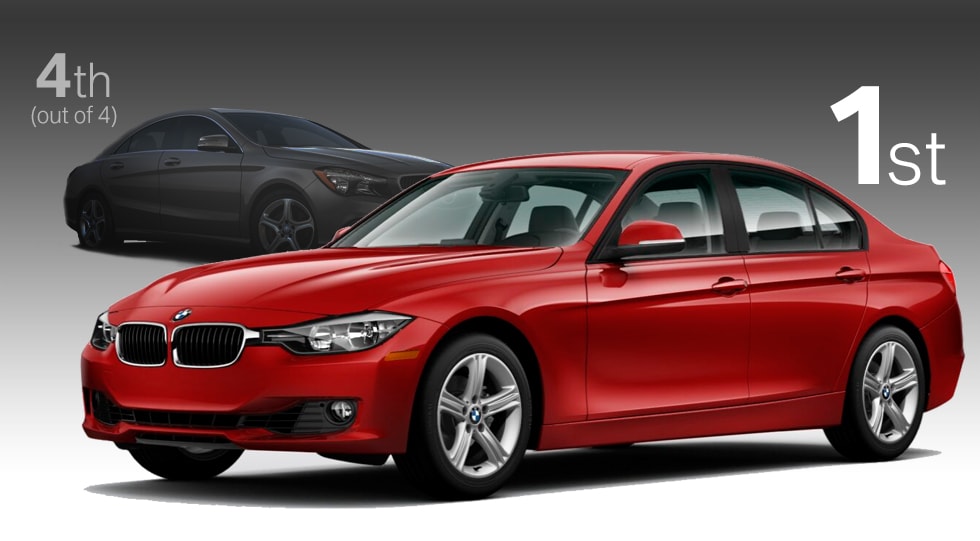 BMW 320i and Mercedes CLA250 went head-to-head in a Southwest joyride between four Motortrend Test Drivers. The 320i came out ahead in all major categories being touted as a luxury car "prepared for any road, anywhere, any time" while the CLA will be "a star when rough-riding luxury cars become all the rage."
BMW of Idaho Falls has a large selection of the game changing 320i's that are sure to please no matter the occasion. There has never been a better time to get behind the wheel of a new BMW. We here at BMW of Idaho Falls work hard to ensure that all of your questions are answered, and that you are taken care of long after the purchase. That is why we were named a 2014 BMW Center of Excellence Award winner. Only 32 BMW Centers nation wide won this honor, we were the only one from Idaho! Let us help you get to know more about a BMW today. 
| | |
| --- | --- |
| | |
Mercedes-Benz CLA250


"The CLA250 is way different...Take it out of its element - such as out on the wild remnants of Route 66 - and the cabin sounds like all hell has broken loose."

Mercedes-Benz CLA250


"It's obviously smaller, pinching heads as soon as you hop in,...but the rear headroom is as offensive to tall people as the plunging roofline suggests."

 
 
BMW 320i


"The BMW suspension delivers a reassuring ride that's more adept than those of the CC at snuffing motions after the wheel impact, rather than letting the car oscillate on its own."

BMW 320i


"...the BMW. The 320i's cabin is minimalist and easy to embrace, and the back seat is the most accommodating of the four, with gobs of head- and legroom and trouble-free ingress and egress."
SAFETY
The 320's front seatbelts have an option will tighten automatically in the event the vehicle detects an impending crash, improving protection against injury significantly. The CLA-Class doesn't offer pre-crash pretensioners.
The 3 Series Sedan has standard Active Head Restraints, which use a specially designed headrest to protect the driver and front passenger from whiplash. During a rear-end collision, the Active Head Restraints system moves the headrests forward to prevent neck and spine injuries. The CLA-Class doesn't offer a whiplash protection system.
For its top level performance in frontal, side, rear impact and roof-crush tests, the Insurance Institute for Highway Safety  rates the 3 Series Sedan as a "Top Pick," a rating only granted to 170 vehicles tested by the IIHS. As of March, 2014, The CLA-Class has not been tested.
---
WARRANTY
The 3 Series Sedan's corrosion warranty is 8 years and unlimited miles longer than the CLA-Class' (12/unlimited vs. 4/50,000).
BMW pays for scheduled maintenance on the 3 Series Sedan for 4 years and 50,000 miles. BMW will pay for oil and filter changes, lubrication, brake pad/rotor and fluid changes, drive belts and wiper blades. Mercedes doesn't pay scheduled maintenance for the CLA-Class.
There are over 12 percent more BMW dealers than there are Mercedes dealers, which makes it easier should you ever need service under the 320s warranty
FUEL ECONOMY and RANGE
Regenerative brakes improve the 320i Sedan's fuel efficiency by converting inertia back into energy instead of wasting it. The CLA-Class doesn't offer a regenerative braking system.
The 3 Series Sedan ActiveHybrid/diesel's standard fuel tank has 1.8 gallons more fuel capacity than the CLA-Class (15 vs. 13.2 gallons), for longer range between fill-ups. The 3 Series Sedan's standard fuel tank has 2.6 gallons more fuel capacity than the CLA-Class (15.8 vs. 13.2 gallons).
---
TRANSMISSION
An eight-speed automatic is available on the BMW 3 Series Sedan, for better acceleration and lower engine speed on the highway. Only a seven-speed automatic is available for the CLA-Class.



INTELLICHOICE COST OF OWNERSHIP CALCULATES THE CLA250 WOULD COMMAND $1220 MORE TO OPERATE OVER 5 YEARS THAN THE 320i.