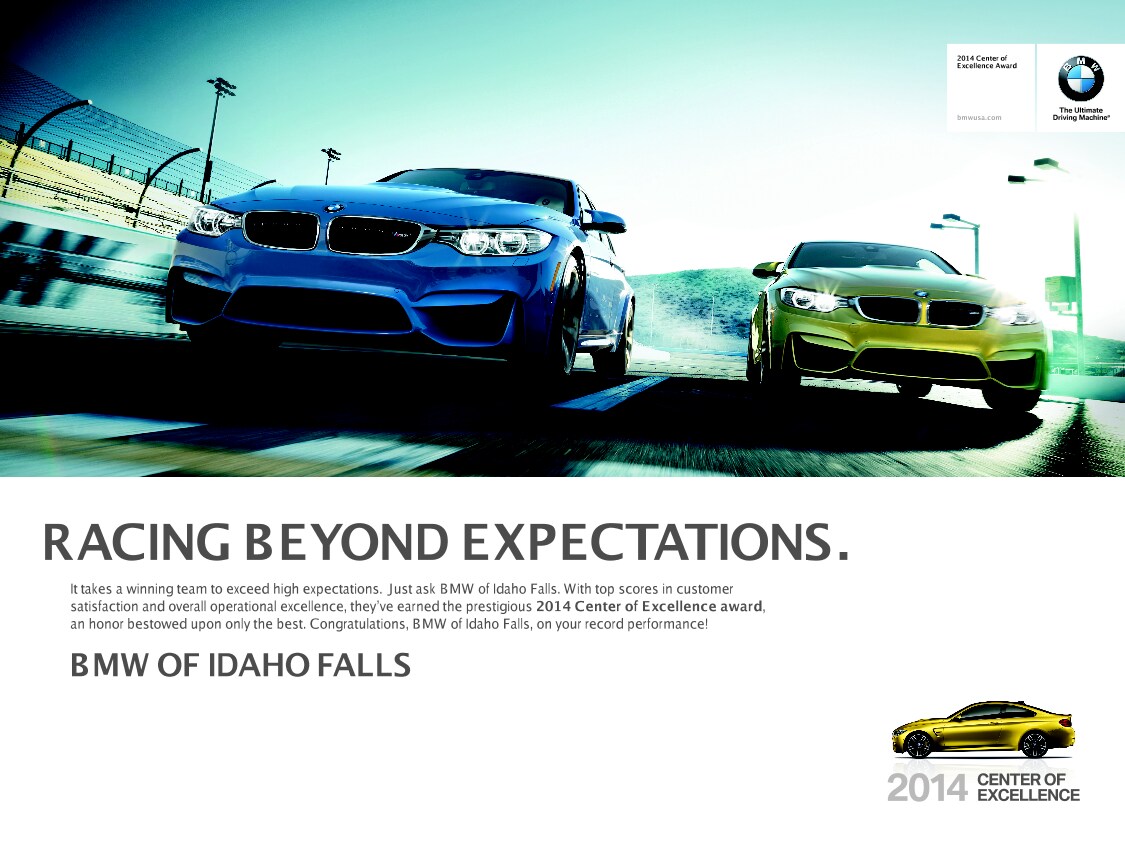 It takes a lot of hard work and teamwork to deliver an excellent BMW purchasing and ownership experience. We here at BMW of Idaho Falls have done this in 2014. We earned the 2014 BMW Center of Excellence Award for proving our sales leadership while achieving the highest levels of customer satisfaction among all BMW Centers in the nation. We couldn't have done it without you!
---
Idaho Falls, ID - BMW of North America, LLC is announcing its annual Center of Excellence honors The awards go to the top performing BMW dealerships in the U.S who distinguished themselves through exceptional performance, consistent brand representation, and a center-wide dedication to providing an outstanding customer experience Thirty-two of the 339 BMW dealers nationwide achieved "2014 Center of Excellence" status based on their 2013 performance.
"We applaud these Center of Excellence winners," said BMW of North America CEO and President, Ludwig Willisch: "Many of this year's winners have achieved this award over multiple years, which is proof they are delighting their customers at every turn We trust they'll use the designation proudly in their marketing, and we know they'll enjoy the trip to Anguilla as their reward."
Dealers listed below are in numerical order based on their final COE score.
2014 Center of Excellence Award Recipients
1 Hendrick BMW, Charlotte, NC

2 BMW of Murrieta, Murrieta, CA

3 BMW of Honolulu, Honolulu, HI

4 Valencia BMW, Valencia, CA

5 BMW of Idaho Falls, Idaho Falls, ID

6 BMW of Beaumont, Beaumont, TX

7 Peter Pan BMW, San Mateo, CA

8 Hilton Head BMW, Bluffton, SC

9 BMW of Corpus Christi, Corpus Christi, TX

10 Sun Motor Cars BMW, Mechanicsburg, PA

11 BMW of Ridgefield, Ridgefield, CT

12 Schomp BMW of Highlands Ranch, Highlands Ranch, CO

13 Century BMW, Greenville, SC

14 Flemington BMW, Flemington, NJ

15 Dave Walter, Inc., Akron, OH

16 Performance BMW, Chapel Hill, NC

17 Competition BMW of Smithtown, Saint James, NY

18 BMW of San Diego, San Diego, CA

19 United BMW of Gwinnett Place, Duluth, GA

20 Crevier BMW, Santa Ana, CA

21 BMW of Morristown, Morristown, NJ

22 East Bay BMW, Pleasanton, CA

23 Karl Knauz Motors, Lake Bluff, IL

24 Motorwerks BMW, Bloomington, MN

25 BMW of Las Vegas, Las Vegas, NV

26 Bob Smith BMW, Calabasas, CA

27 New Country BMW, Hartford, CT

28 BMW of Westchester, White Plains, NY

29 Tulley BMW, Nashua, NH

30 Circle BMW, Eatontown, NJ

31 BMW of Freehold, Freehold, NJ

32 Sandia BMW, Albuquerque, NM